Welcome to Di-Log Solar
Measurably Greener
Welcome to Di-log Solar, the new 'Greener' member
of the Di-log Group.
The confirmation of the feed in tariffs by the government, which came into force on 1st April 2010 has given the solar PV market a massive boost.
All installers require the ability to measure Irradiance levels, in either W/m² or BTU/ft*h. Plus voltage and current measurement, either by clamp meter or multimeter.
The range of Di-Log Solar PV test equipment will help an installer to demonstrate compliance with MCS installation requirements.
The new range includes a high specification Irradiance Solar Meter, the SL102 and PV Installation kits. The SL102, with its unique dual display, gives the installer the ability to accurately measure Irradiance and the facility to connect directly to the panel's terminal to measure voltage (VOC). With the supplied MC4 test leads plugged in to the SL102, you can safely test the panel in situ, whilst measuring the Irradiance levels before fitting the panel on the roof.
The SL300 kit includes the SL102 and the Di-log DL6402, our biggest selling DC current clamp meter. The kit is supplied in a soft carry case, making it portable and easy to take in site.
Di-Log Solar can now offer you a range of FLIR Thermal Imaging Cameras for all your maintenace and fault diagnosis. This includes the all new FLIR C2 pocket sized camera. Click here for more information
Please note: All prices are subject to VAT.
SL300
Advanced Solar PV Test Kit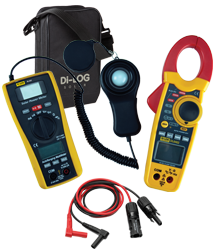 SL300 Advanced Solar PV Test Kit,
perfect for all your PV installations.
---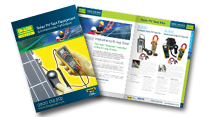 Download the NEW Solar PV Test Equipment & Accessories Catalogue by signing up to our Solar PV Newsletter.